Triple Seat lifetime box office collection is ₹3.75 Crore . Which means film has overcome its budget & is a Average Hit film. Triple Seat is now available on Amazon Prime Video. Triple Seat is really a joyful film to binge watch.
Triple Seat was released on 25th October 2019. It faced many theater allocation issues. Due to strong competition from Housefull 4 & Hirkani. There were only 90 total shows in major 6 cities. Whereas, Housefull 4 got 45 Shows in Nashik itself. Still the movie did a descent collection at box office. Triple Seat is directed by Sanket Prakash Pabse & produced by Narendra Shantikumar Firodiya under Anushka Motion Pictures & Entertainment as well as by Ahmednagar Film Company with Swapnil Sanjay Munot (co-producer).
Triple Seat Box Office Collection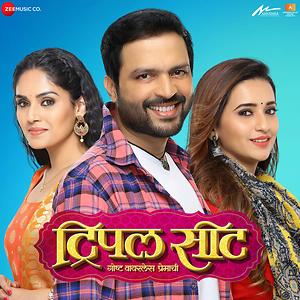 On day 1 Triple Seat managed to gross 20 lakhs at box office. It faced intense competition from Hirkani & Housefull 4 due to which the collections were low. Triple Seat grossed 75 lakhs on its first weekend. In first 7 days (week 1) it made around ₹1.86 Crore. In 15 Days ₹2.75 Crore. And finally Triple Seat worldwide box office collection is 3 Crore 75 Lakhs. Triple Seat managed to gross around ₹3.75 Crore which is not upto the mark but good. Stay tuned for more updates.